The following flowers (botanical names) and materials have been used:
Coloured Rotang (Pink)
Coloured wooden sticks (Pink)
Hydrangea macrophylla Magical 'Amethyst'
Alchemilla mollis Robusti
Zantedeschia 'Mango'
Typha latifolia
Antirrhinum Monaco Rose
Freesia Orange
Step 1
Take the OASIS® Floral Foam out of the plastic tray and put it in a solution of water enriched with Floralife® ULTRA 200 Clear until it is fully soaked, and place it back in the tray.
Step 2
Start setting up the height of the composition placing the pink coloured wooden sticks in the centre.
Step 3
Continue with the pink coloured rotang which you curl around the base and fix with strongly with OASIS® Floral Adhesive or an OASIS® Glue Gun until the entire plastic base is covered.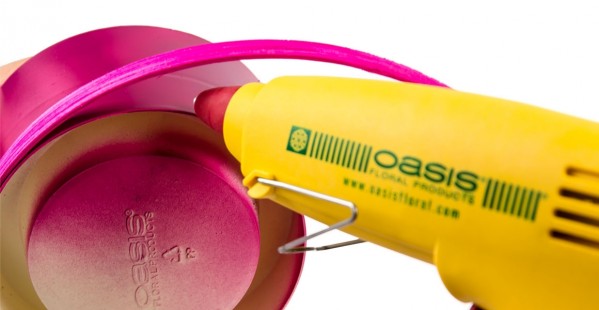 Step 4
Proceed curling the rotang in an upwards way towards the top of the wooden stick and fix it with a small piece of OASIS™ Metallic Wire.
Step 5
Then make a floral base with the Hydrangea around the high elements.
Step 6
Next determine the height of the Calla's, based on the total height of the composition and work towards the base of your creation putting the Antirrhinums and the Freesias.
Step 7
Finish your creation dividing some Alchemilla in a playful way over the composition.